Right now, Skerries Soundwaves Festival is undoubtedly our busiest committee, as the festival itself is coming up in September! Gráinne Enright, chairperson of the committee, writes:
[The following was written in preparation for our Skerries Community Association AGM, which will take place on Friday 11 September 2015, 8 p.m., in the Little Theatre.]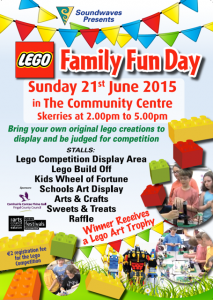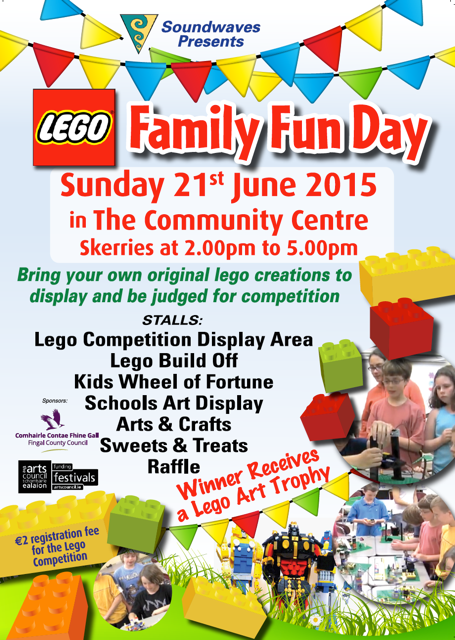 Skerries Soundwaves is in its 12th year now, and continues to go from strength to strength. We had our Lego Family Fun Day in June, and great fun was had by all at the display area, the Lego build off, the Wheel of Fortune and the Schools Art Display.
Our 2015 festival kicks off on 17th September and continues until the 27th. Some events planned for this year include:
– An art trail with artwork displayed in 10-15 prominent locations around the town
– A schools programme, with artists and story tellers going into local schools

– A large concert at the Mills, featuring the Walls, Darling, and The Fontaines
– A classical music night with choirs, strings, and more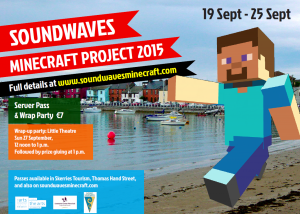 – Our fourth Soundwaves Minecraft Project, with a week of online creativity followed by a Minecraft-themed wrap party on Sunday
– Our largest ever street party, with a bouncy castles, a youth orchestra, Mr. Toots the tourist train, Clap Handies, street games, the rock trailer, and more.
– A children's opera: Hansel and Gretel
– Sunday's Child Drama Company will put on their latest play
– An inclusive drumming workshop, now in its third year
– The annual fireworks display in the harbour
See  http://skerriessoundwaves.com  for our full programme.
Contact: skerriessoundwavesfestival@gmail.com
Gráinne Enright, chair, Skerries Soundwaves Festival