Skerries Cycling Initiative also reviewed the last year, getting ready for the Skerries Community Association AGM on Fri 11 September 2015. The chairperson, Ray Ryan, writes:
Our activities over the last year or so included: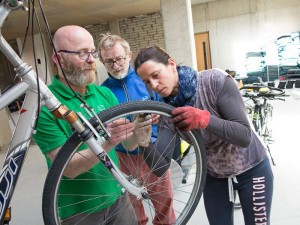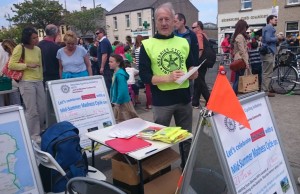 Bike repair and maintenance course. Ten people attended the bike repair and maintenance course we organised at the Well Fit gym premises at  Skerries Shopping Centre over six mornings in May. It was initiated by Skerries Tidy Towns with funding  by Fingal County Council and the Department of the Environment under the Local Agenda 21 programme. Bike mechanic Paul Callan from The Rediscovery Centre, a social enterprise based in Ballymun, conducted the sessions. All participants enjoyed the course and now feel confident about tackling bike repairs.
The Rás End Stage street party and the fine weather gave SCI a great opportunity to talk to people about improving cycling infrastructure in and around Skerries. The need for a safer cycling route between Skerries and Balbriggan came up many times. People really want to see this happen soon.
We were delighted  that twenty eight  new subscribers signed up to our email Newsletter on the day. To receive it yourself, just send an email to cycling@skerriesca.com.
Bike Week Fun Cycle. Our Midsummer Madness Fun Cycle on 21 June was a trip around the town and local housing estates exploring lesser known paths and laneways as well as Town Parks, the Ballast Pit path and Distributor road. We returned from Barnageera Cove via the coast road and finished with a picnic at The Seapole.
Submissions to FCC. During the last year we made submissions on 30 km/h in residential areas, cycling in Town Parks and the draft County Development Plan. We continue to press for the completion of the cycle track from Balbriggan to Skerries, and for greater awareness of the importance of cycling to a number of areas, including the development of tourism in Fingal.
Cycling on South Strand As a group working for better cycling facilities in Skerries we had mixed feelings about the proposal to ban cycling along the South Strand path. However we are convinced, having heard many accounts of accidents involving walkers and cyclists that the path is not suited to adult cycling given the potential for conflicts with other users. However, Fingal County Council accept that young children, properly supervised by a parent, may cycle on the path.
Ray Ryan, Chairperson, Skerries Cycling Initiative.
Contact: cycling@skerriesca.com