Shay Fanning, Chair, Board of Management, Skerries Community Centre, writes:
The last two years have been very busy and rewarding years for Skerries Community Centre–during this time the Centre and the Old School have gone through a big transition. In the Centre, the ladies and gents showers and ladies and gents toilets have been completely refurbished. The heating in the centre and old school have been changed from oil to gas. Most of the windows in the Old School have been replaced with timber double glazed windows that are in keeping with the building's appearance. The front and side of the Old School is getting a completely new coat of paint.
We are also in the process of getting a new logo for the Centre. We have planning permission for extra toilets in the Old School and we are just waiting to see if our grant application is successful.
The garden around the Old School has got a total overhaul, the flower beds in the car park are also getting a makeover, the next part is for the tree beds running parallel to the Dublin Road to get a facelift…
I would like to point out that all the painting and gardening improvements is thanks to the staff of the Centre, especially the CE workers, who are taking great pride in how the Centre looks. All staff of the Centre are now wearing uniforms, which makes them easy to identify.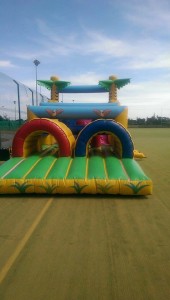 This year we purchased extra equipment for children's activities, such as a bouncy castle, an inflatable 40-foot obstacle course, and ten bubble football outfits. These purchases have been very successful for our camps, which have been full all year. Our children's parties are also getting very popular. (Contact the Centre at 01-849 0888 for information!)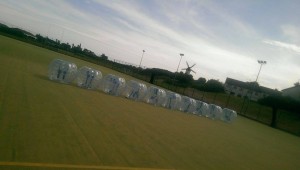 Contact: info@skerriescommunitycentre.ie