In the run-up to the SCA AGM on Fri, 11 September 2015, all committees are reviewing the past year. Here is what Maeve McGann wrote about the work of the Tidy Towns Committee:
Another busy year for Skerries and we are eagerly awaiting the 2015 results of the National Tidy Towns Competition. These will be announced on 28th September.  Watch out for Nationwide on RTE that evening and hopefully you will spot Skerries.
In 2014 having won the County Award and a Gold Medal in the competition, we closed the gap on the overall winners. We are now only 4 points behind last year's winner Kilkenny. So it really is nail biting time now.
Community involvement is an important element in achieving marks in the national competition.  The bird and bat nesting boxes made by Foróige and placed in appropriate locations by our local BirdWatch Ireland group, together with the multiple green flags obtained by the local schools, and the Adopt-a-Beach scheme, count in a big way.  Well done and many thanks to all.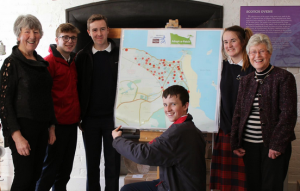 The fifth year of Adopt-a-Patch was re-launched in March 2015, and there are now 50 patches adopted. We do have a few more looking for volunteers to adopt them so if you think you can help contact us through Facebook or speak to any member of the committee.
Our work programme runs from the end of January early February until September each year. We have regular work parties on a Monday morning meeting at 9.30 am in our store on Quay St – new faces always welcome.
Many thanks to all our volunteers and for all the support the Committee receives from residents and businesses in Skerries.
Maeve McGann, for Skerries Tidy Towns.
Contact: tidytowns@skerriesca.com.