See also the recent NOTICE OF THE SCA AGM TO MEMBERS
The AGM is free but numbers are limited. Please register now on Eventbrite.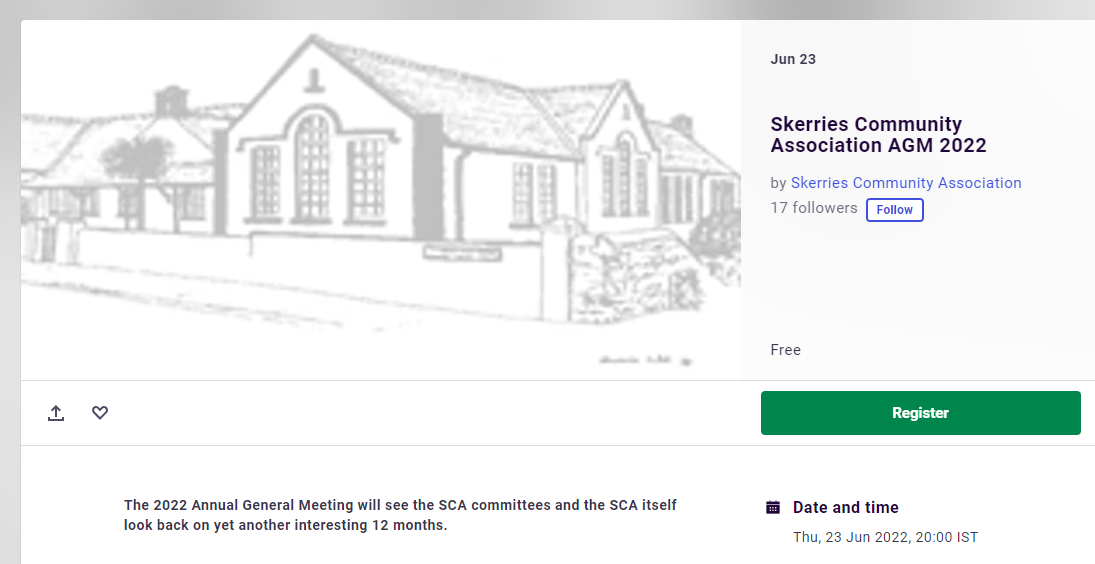 SCA Chair Jane Landy writes: Back in the chair plus arrivals and departures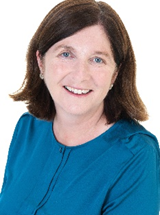 It's less than a year since our last AGM (4 October 2021) and Skerries and the world seem to be very different. An end to all Covid restrictions since March 2022 has meant that those committees who rely on holding in-person events have been able to get back to business. Back in September who would have thought that we would be welcoming people fleeing from war-torn Ukraine to our town? (See skerriesca.com/Ukraine for more.) And I find myself (an SCA old-timer) "back in the chair", which is as enjoyable and fulfilling as ever!
Throughout the pandemic the board and committees pressed on with community work and it is amazing just how much can get done via Zoom and emails. A huge thanks to all my co-directors, especially to Michael McKenna, my predecessor, who is also our company sectary, and to our treasurer Mary Conway.
We are thrilled to have been joined by three new directors: Bríd Grimes, Breda Shankey, and Aoife Malone, all of whom bring valuable skills and experience to the board. Sadly, John Fitzgerald is leaving us after several years on the board, and I want to thank him for his outstanding contribution. Luckily for us, he will remain on S-SECI (Skerries Sustainable Energy Community Initiative), a committee that he was part of since its earliest days.
Committees back in business
It is so great to see in-person activities resuming over the past few months. The long Covid pause has made us realise how incredibly lucky we are to have people who organise visits from our twin town of Guichen (Skerries Town Twinning), cycle trips around the town (Skerries Cycling Initiative's Last Thursday Cycles), evening nature walks (Sustainable Skerries' First Fridays For Future), to mention but a few.
Skerries Tidy Towns Needs Your Help! And Skerries CoderDojo…
June is judging time for our hard-working Tidy Towns committee. Please remove any litter you see around the town and let's keep our fingers crossed for a good result in 2022 …
We would like to re-start Skerries Coder Dojo (a coding club for youngsters) but we need to replenish the committee. Can you help us? If so, do get in touch (info@skerriesca.com).
Coming up … Skerries Community Centre's Big 40
The Skerries Community Centre will celebrate its 40th birthday on Sunday 7 August 2022 and will hold a party for the community to mark this great occasion. More than a generation ago, the people of Skerries came together to create the Community Centre, and they have left a legacy to be proud of. Details about the celebrations will be available closer to the time. A huge thank you to the Board of Management, manager Sharon Guinane and all her team for their work in running and looking after this great community amenity.
Role of the board
All of these committees (plus the community centre and its board of management) are part of one company: The Skerries Community Association CLG (SCA). As the board of directors, our job is to provide oversight and support to all of the groups. We also engage with public bodies, especially Fingal County Council and participate in groups such as the Fingal Public Participation Network and the Skerries Community Liaison Committee.
All of us in the SCA are united in our aim to look after and enhance our vibrant, beautiful town. If you share this aim – and if you are reading this, you probably do – please get in touch and find out how to get involved. Just email info@skerriesca.com. We are very keen to widen participation and with so many diverse activities, there is something for everyone. At a minimum, please join as a member of the association and sign up for the newsflash (no charge for either). See our website, SkerriesCA.com, for details.
The current SCA Directors are:
Officers first, then in alphabetical order by first name:
Jane Landy (Chairperson); SCA Finance Working Group (WG)
Michael McKenna (SCA Company Secretary); Skerries Cycling Initiative Liaison, SCA Communications WG, SCA Finance WG
Mary Conway (SCA Treasurer); Skerries Tidy Towns Liaison, Age Friendly Skerries Liaison, SCA Finance WG
Aoife Malone (Co-opted May 2022)
Breda Shankey, SCA Communications WG (Co-opted November 2021)
Brendan Friel, Skerries Town Twinning, SCA Finance WG
Brendan Sherlock, Age Friendly Skerries Liaison, Fingal Public Participation Network
Bríd Grimes, SCA Finance Working Group, SCA Communications WG (Co-opted November 2021)
Helen Scullion, Sustainable Skerries Liaison, SCA Communications WG
John Coleman, Skerries Town Twinning Liaison
John Fitzgerald, Skerries Sustainable Energy Community Initiative Liaison
Michael Fanning, Skerries Autism Friendly Town Liaison
Shay Fanning, Chair of the Skerries Community Centre Board of Management
Thank you!
To all of our committee members, staff of the Community Centre and the other volunteers who help us (Máire Jones and Sabine McKenna for the website and Dee Langton for the Newsflash) – a heartfelt thank you!
Hoping to see you on Thursday 23 June 2022 at the AGM Zoom,
Jane Landy (chair)


Skerries Neighbourhoods Network
Are you in a local WhatsApp or Facebook group? Then make sure your group is part of the Skerries Community Association's network of neighbourhoods / resident's associations and street groups, for information sharing and consultation at a truly local level. Would you like to set up a neighbourhood group or residents' association? Then look at our web page to get some ideas on how to get started. SkerriesCA.com/Neighbour
And this is what the community centre and our committees
were engaged in over the last year: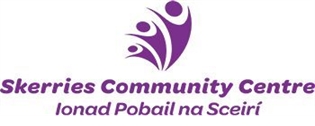 Skerries Community Centre
The past year presented many challenges in the provision and maintenance of services, but over recent months, user groups have returned, and activity is now close to pre covid times.
Finance: Up to and including June 2022, our monthly Financial Reports show a healthy position.
Maintenance/improvements: We have prioritised a high level of maintenance and carrying out repair and improvements as finances allow. The Board of management used part of the old gym space to facilitate a studio, kitchen and social space for the tennis and hockey clubs to use. The grounds of the old school and surround have been resurfaced and all the windows and doors in the community centre replaced.
The most significant work to be carried out in recent years is the upgrading of the all-weather pitch and surround, in conjunction with Fingal County Council. The contract has been placed, and we are hopeful that the work will commence in the near future.
Sticky Fingers Montessori has been a remarkable success and one of the main contributors to our income. The three classes are full, and there is a waiting list for the coming year.
Coffee Dock: A coffee dock at the side of the community centre was agreed subject to terms and conditions. To date it has been a success.
40th year celebration: The date for celebrating 40 years of the Skerries Community Centre is set for Sunday 7th August 2022 from 2–5pm. The afternoon will be filled with family fun: Bouncy Castle, Magic Show, Puppet Show, face painting, candyfloss, popcorn… Many of our groups will be preforming on the day. We hope to see everyone there!
Finally, I want to compliment Sharon Guinane and her staff for managing the centre through another successful year and for their willingness to be flexible and inventive during some tricky times. I also want to thank the members of the board for their work and commitment over the past year in supporting myself and the staff to ensure the best possible service to the community.
Shay Fanning, Chairperson, Board of Management, Skerries Community Centre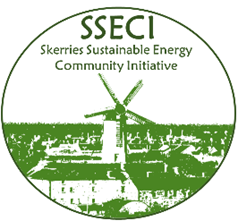 Skerries Sustainable Energy Community Initiative (SSECI)
In the last year, the SSECI Committee has worked with the SEAI Energy Communities program and commissioned an Energy Master Plan for Skerries, which will provide a list of opportunities for sustainable and energy efficiency projects. Plan Energy, who are currently carrying out energy audits and analyses, should deliver their final report in early autumn of 2022.
Sample Building Efficiency Rating surveys carried out of different community and business buildings in Skerries, including Gerry's Supermarket, Skerries Town Football Club clubhouse, Skerries Sailing Club, and the Skerries Community Centre. The report will lay out a roadmap for SSECI and can be used as a baseline for comparison over the following years.
It is a very exciting time for people interested in sustainable and energy efficiency in Skerries. We need a lot of participation and interest from the local com­munity if we want to achieve the targets set out by the Irish go­vernment, namely a reduction of energy use by 3% year-on-year.
We are now looking for further committee members to be part of the journey towards Skerries as a true sustainable energy community.
Michael Mullan-Jensen, chair, SSECI. skerries.seci@gmail.com

Skerries Cycling Initiative
We began a series of monthly "Critical Mass" cycles around the town in May. These take place on the last Thursday of each month up to September's European Mobility Week which runs 16-22nd September 2022. See FB for details and: Join us!
Our community bike workshop is a place to share bike repair and maintenance skills with those eager to learn such essentials as how to repair a puncture, fix the brakes and replace a worn-out chain. We would also welcome offers of bikes for donation, so that they can be serviced and then passed on to people who need them. Email us!
Our warm thanks are due to SCI member Ray Ryan, who for many years was a Public Participation Network Cycling representative on the Fingal County Council Transport & Infrastructure Management Stra­tegic Policy Committee.
We made a submission on the draft Fingal Active Travel Strategy. A Skerries Active Travel feasibility study is to be completed this year by Fingal County Council. We need to show that the town is serious about active travel and press for the improvements needed to help people do more walking and cycling.
Join us and help make cycling safer and more fun for everyone! Like Skerries Cycling Initiative on Facebook. Contact us to subscribe to the SCI newsletter or to join the SCI .
Michael McKenna, Secretary, SCI
email:cycling@skerriesca.com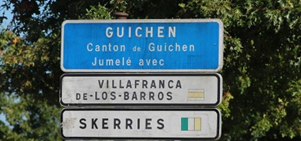 Skerries Town Twinning
We continued to operate our Language Buddies initiative over the past 12 months. This project operates in pairs and enables people to set their own pace, decide what they want to talk about and do it whenever and however suits them best. It has been a big hit and those taking part are delighted with the initiative.
We have held regular meetings on Zoom with our counterparts in the Canton of Guichen (Brittany) and with our friends in Srem (Poland).
As the Covid 19 pandemic recedes we are planning to resume our regular exchange visits. Skerries will host a delegation from Brittany from 21 to 25 July 2022. As part of the visit and in conjunction with Sustainable Skerries, we plan to discuss how local people can respond to the impact that the war in Ukraine and the energy crisis is having on our food and fuel supplies.
Skerries Town Twinning continues to promote friendship between people across Europe. A handshake means the same in every language, so you don't need to speak a foreign language to get involved.
Contact skerriestwinning@gmail.com or visit www.skerriestwinning.ie
Brendan Friel, Chairperson , Skerries Town Twinning

Sustainable Skerries
Our aim is to make Skerries resilient, regenerative, and a great place to live for all… now and in the years to come.
Sustainable Skerries is involved in activities around biodiversity (implementing the Skerries Pollinator Plan), food, circular economy and waste reduction (Repair Cafés; car boot sales), sustainable energy (with SECI) and sustainable transport (with SCI). We also engage with Fingal County Council (consultation process for the Fingal Development Plan).
Here is a taste of what we've been doing, and of our future plans:
Our biodiversity team has been busy nurturing and expanding the wildflower meadow in Skerries Educate Together N.S., establishing more wildflower areas, and helping residents in different areas of Skerries create wildflower areas.  There will be guided pollinator walks, a poster showing all local bumble bees, and a biodiversity talk.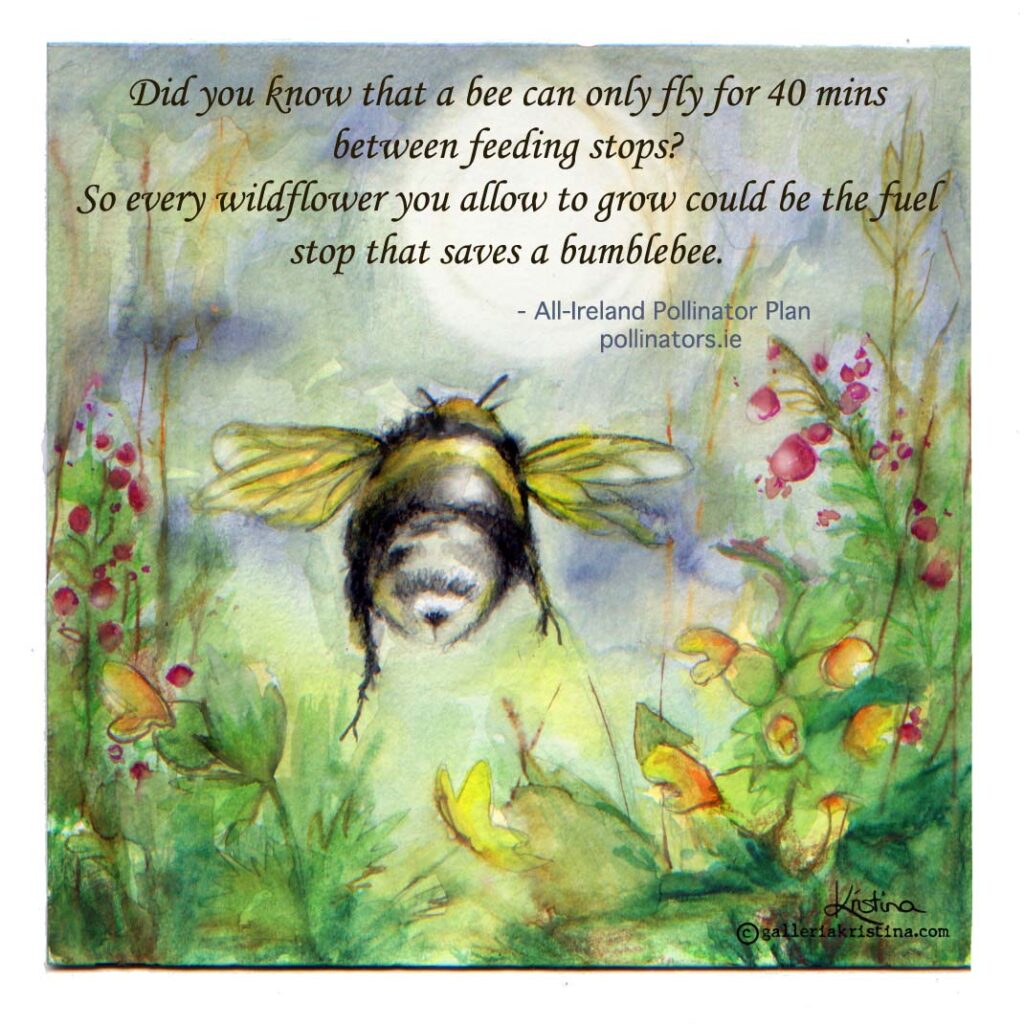 We planted 3 mini open orchards in Skerries with 40 apple, pear, plum, and hazelnut trees, with the support of dozens of neighbours. And we're planning at least two more!
We held a car boot sale & family fun day. It was lots of fun, and we hope to do something similar, just indoors, in time for the Christmas season.
We joined the Fridays For Future movement – holding monthly meet­ups (on each first Friday). Come & join us – Friday 1st July
We're also planning a 6-week training course, open to the community, on how Skerries could become more of an eco town – including a 2-day visit to the eco-village in Cloughjordan, Co. Tipperary. (See a video on why and how here, and get details and / or register your interest here!)
And then we hope that there will be the second Sustainable Skerries Food Festival in 2023.
We would love to welcome more helpers onto the team and / or the committee. Join us! Help us! sustskerries@gmail.com
SustainableSkerries.com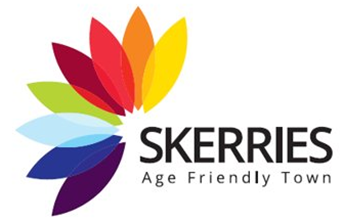 Skerries Age Friendly Town
"Age Friendly Environments are better places in which to grow, live work and play"
WHO Sept 28th, 2020
Since receiving the Age Friendly Town charter in 2014 we have been working, in collaboration with Fingal County Council's Age Friendly County Programme Coordinator, to ensure the voice of older people in Skerries is heard.
The very popular GoCar Community car scheme is returning with the support of Fingal County Council, Go-car, Transport For Ireland, Local Link Louth Meath and Fingal, the many local volunteer drivers and the Age Friendly Group in Skerries. The Community GoCar scheme is for Older People or people with mobility issues to take them to e.g. medical appointments, physio and pharmacy, or religious services.
To avail of this great service, you must first register by ringing 1 800 303 707.
If you would like to hear more about the Age Friendly initiative or would like to get involved, please don't hesitate to call 0863977118.
Mary Conway, Age Friendly Committee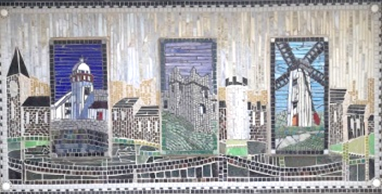 Skerries Tidy Towns
Tidy Towns volunteers continued through all restrictions to keep the town up to a high standard. This work earned us five extra points in the 2021 National Competition!
Our Adopt a Patch members continue to be an inspiration to us. They keep the town pristine clean which allows us to get on with other work which needs to be tackled.
Our Conscious Cup Campaign, supported by all the local cafés, was one of our biggest initiatives this year.
A new litter initiative, "SEAL" – Skerries Everyone Against Litter, was launched with 3rd class pupils in St Patricks Senior School.
Working with the Skerries Chamber of Tourism and Fingal County Council, signage has been erected to inform visitors of the town's past history and present attractions. We are working with Fingal County Council and Abarta Heritage to develop an audio guide for Skerries.
A local artist, working with a local art teacher, service users from Prosper Fingal and transition year students designed the beautiful mosaics which now adorn the wall of McLoughlins' Lane which adjoins the new day service for Prosper Fingal. They reflect the community we live in, with emphasis on local flora, fauna, landmarks, and community spirit.
Tidy Towns offers endless oppor­tunities for the community to become involved. If you wish to make a difference in the com­mu­nity where you live, why not join us, be it for one of our regular work parties or on the committee.
Once a year we ask for financial support from residents and businesses. If you would like to support us in this way you can do so through IDonate. The link is on our Facebook page. Alternatively, your donation may be given to any member of the committee or put in an envelope and left into the Community Centre for our attention.
We thank everyone in Skerries for their continued support.
Maeve McGann, Chair, Skerries Tidy Towns
Remembering Anne
Anne Doyle who died on 6th June was chairperson of Skerries TidyTowns Committee for many years. Anne was an inspiration to us all. Her passion, commitment and artistic talent were in no small way responsible for Skerries winning the National Competition in 2016. She was a good friend to Skerries and will be greatly missed by all who knew her and the TidyTowns Committee in particular.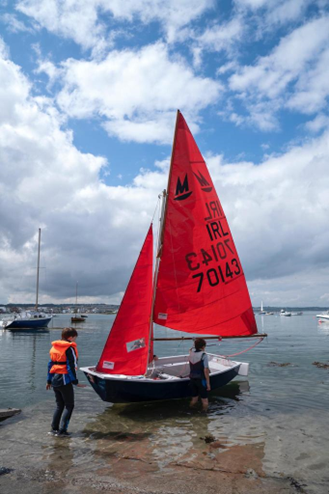 Skerries Autism Friendly Town.
2021 was a year where we had to adapt our plans significantly – nevertheless it was still a year of great progress in advancing our agenda of building awareness of Autism in the Town of Skerries through educating the com­munity so that those individuals with Autism can be empowered and feel that they are included in the day to day life of the Town
Support: We want to be a support for the autistic community in Skerries and to really listen to the everyday challenges they face. We have asked autistic adults for their feedback on what matters to them within the wider community and we have taken that feedback on board to shape our plans for the future e.g. involvement in sporting activities and sensory areas .
Social media: We are very active on Facebook, Instagram and Twitter, to provide education & awareness on all things autism related. There is a mine of information, webinars and courses out there offering support and advice, and our social media officer Gillian Dunne does amazing work in collating and bringing this information to the fore. Please give our social media pages a like and share.
Sports clubs – Sports and disability liaison officer David McGovern has been reaching out to many of the local, with the goal of running inclusive sports and activities. We now have autistic children and young adults who are facilitated with specific initiatives in Skerries Harps GAA, Skerries Hockey Club, Balrothery Tennis Club and Skerries Sailing Club, with engage­ment underway with other clubs to put in place additional sporting activities in 2022. The very successful 'All Inclusive Sailing' initiative was led by Aideen Quinn in partnership with the Skerries Sailing Club . It was very well received with a great uptake and an enjoyable experience for all involved. As a result there are multiple such events taking place in June , July and August 2022
Sensory Garden– A sensory garden is an environment designed with the purpose of stimulating the senses, through the use of plants and materials that stimulate sight, smell, touch, and sound. Through the great work of Stephen Tanner, Aideen Quinn, and Michelle Moore, the ambition of bringing such a garden to Skerries will over the next 12-18 months become a reality in Floraville, in partnership with the Skerries Chamber of Commerce.
Creative Cookery – In April this year Leanne Dunne and Orla Owens launched a Creative Cookery initiative for children with autism. This has been very well received and is proving to be very popular.
Skerries Autism Friendly Town Coffee Morning – In April this year we ran a Coffee morning in Skerries Sailing Club to raise awareness of the SAFT group and our agenda. This event was organised by Grace Gallagher and was very well attended with excellent engagement from multiple stakeholders, but most importantly, several children with autism and their parents were in attendance.
We at the SAFT Committee are thankful to all the volunteers and advocates who are helping to con­tribute towards our town be­coming autism friendly. Our role as the committee is to help create awareness and understanding within the local community, particularly for those with little or no knowledge of autism. This initiative is being run by AsIAm. Learn more about their advocacy work at AsIAm.ie/Advocacy
Gerard O'Mahony, SAFT
Our flyer in its full colours:

Click on the "full screen" icon near the bottom right-hand corner to read the flyer.
It is being distributed by An Post to all Skerries households who don't have a "no junk mail" sticker at their door during this and next week