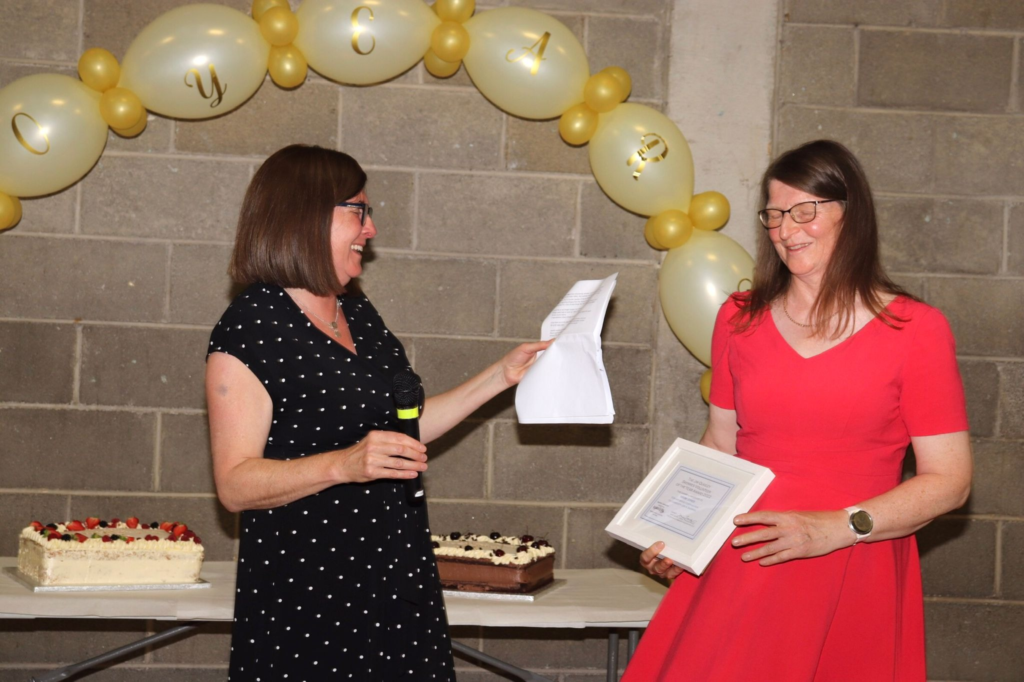 Every year, the Skerries Community Association (SCA) awards the Jim Quigley Volunteer of the Year title to a group or an individual.
In doing so, the SCA honours the memory of the late Jim Quigley – a man who, like so many of us, was a "blow-in." He and his wife Brigid came to Skerries in the 1970s. He volunteered in his local Residents Group and from there was drawn to the Skerries Development and Community Association, where his involvement lasted 22 years, ten of them as Chairperson. Perhaps the most visible legacy of his work in Skerries is the Community Centre, which opened in December 1982. You can read more about him on the SCA website.
This year, the award was made at a particularly fitting and festive occasion – in the context of the Skerries Community Centre 40 Year Celebrations (7 August 2022), and in the presence of Jim's widow, Brigid. To great applause, SCA chairperson Jane Landy introduced the winner, and Brigid Quigley handed the award to Máire Jones.
The judges chose her in recognition of the range of her volunteering activities. She is a long-time volunteer with Skerries Water Safety (the winners of the Jim Quigley Award in 2017, by the way),  she maintains the Skerries Community Association website, she is a founder member of Skerries Walking Club, she is one of the more active volunteers with the Skerries Community Garden, she is a Skerries Community Car Volunteer Driver, a Skerries Cycling Without Age Volunteer Pilot, and the Skerries Neighbourhoods WhatsApp Group contact person for The Haven. This year she has also been involved in supporting refugees from the Ukraine who have come to Skerries.
Can you begin to see why the judge picked her out of a very strong field of nominees? Congratulations Máire! Well deserved.
Michael McKenna, Secretary, Skerries Community Association