Skerries Cycling Festival 2021: How it turned out
By Michael McKenna
Skerries Cycling Initiative's first cycling festival took place on 22 August. It was a lot of fun and definitely something to build on it, going forward. We started off the day – a lovely one weatherwise – with a 5km and a 25 km cycles from Skerries Mills carpark. People of all ages and abilities, just as we hoped for, took part. This was to be a day for celebrating cycling as a healthy normal way of getting around, whether by you chose a simple one speed bicycle or something sleeker.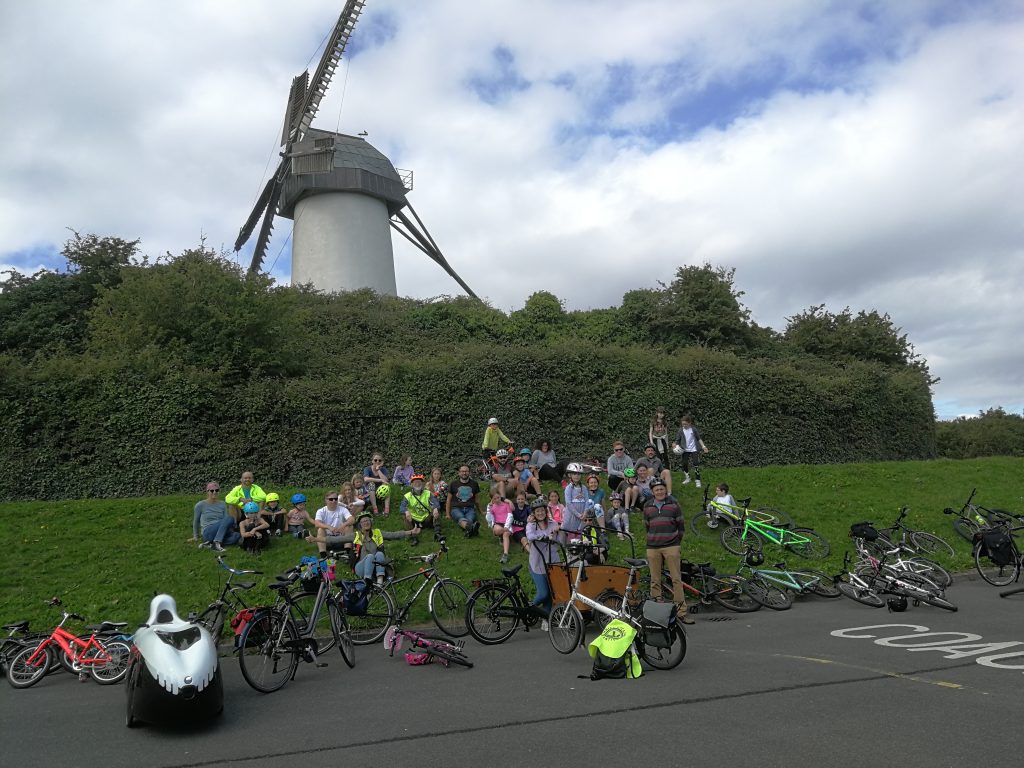 Undoubtedly the most eye catching and eyewatering entrant was Robin of Donabate's Alpha-7 Velomobile, seen below as he chats with Brendan Grimes and Dermot Higgins.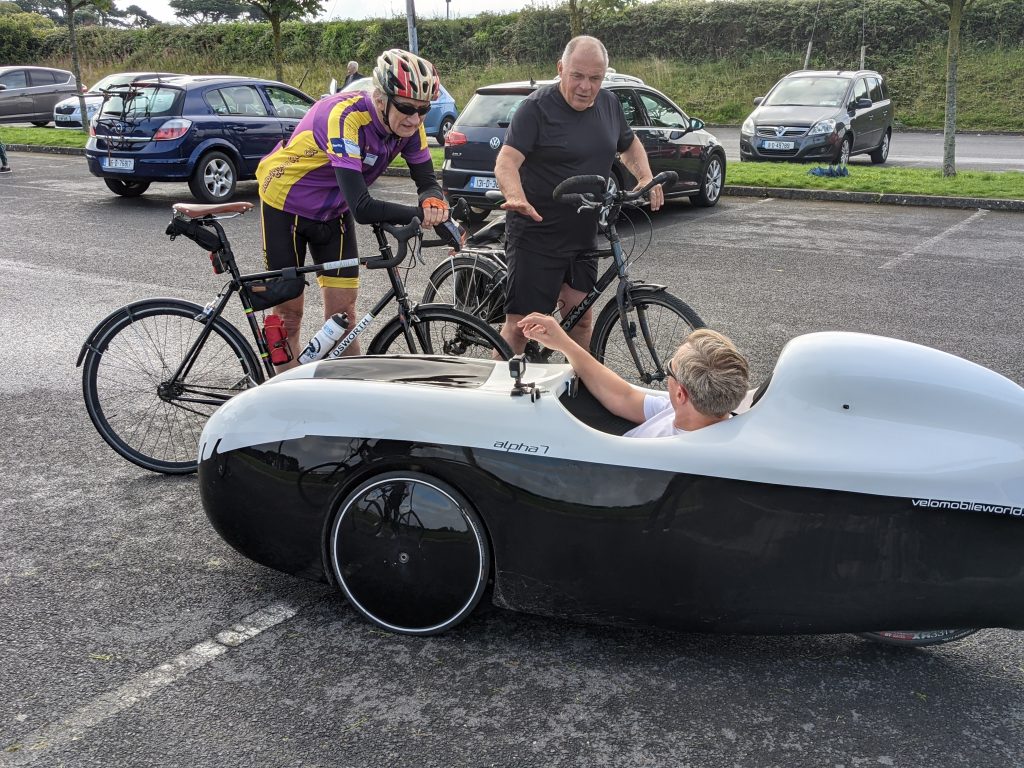 To quote Robin:
I suppose the main appeal for me of the velomobile is that it allows me to ride further and faster (I regularly cruise at over 40 kph) and in more comfort (for example I can easily carry a flask of tea with me!). As somebody who is also interested in the utility of cycling (like the Dutch do), I imagine that with proper infrastructure the velomobile could play a part in replacing some car travel that people might find a little long for regular bikes.
There is no e-assist on this machine – it is powered only by human energy. To read more about these amazing machines go to: velomobileworld.com.
The velomobile is definitely on the exotic end of the cycling spectrum but shows the variety of machines that the simple action of spinning your legs can be harnessed to.
We had lots more versatility as the day progressed. Karen Power ferried her two children around the 5km circuit in her supremely practical Dutch cargo bike.
We also had a trishaw on show. This one will be coming to Skerries soon and already it has attracted a lot of interest with many people eager to learn more about the Cycling Without Age programme. Several of our members have trained as trishaw pilots and a further training session will take place in Skerries on 11 September. Read more about this here.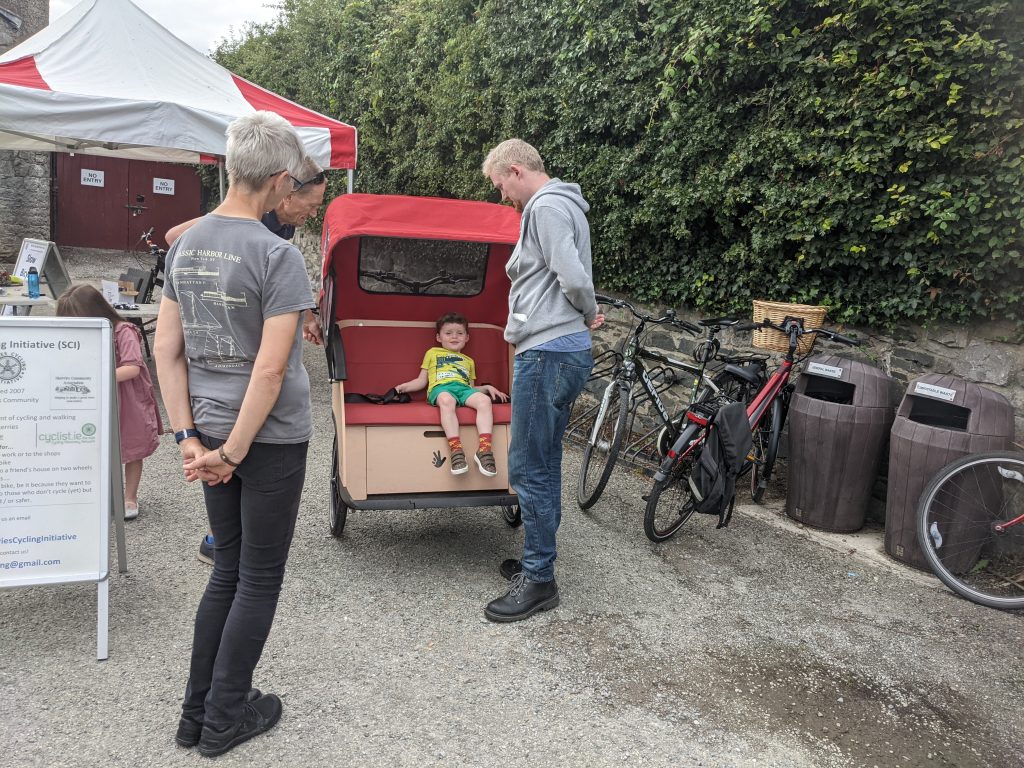 The picture shows Airedale terrier, Biscuit, demonstrating how to disembark a bicycle trailer and tells its own story about bicycle versatility.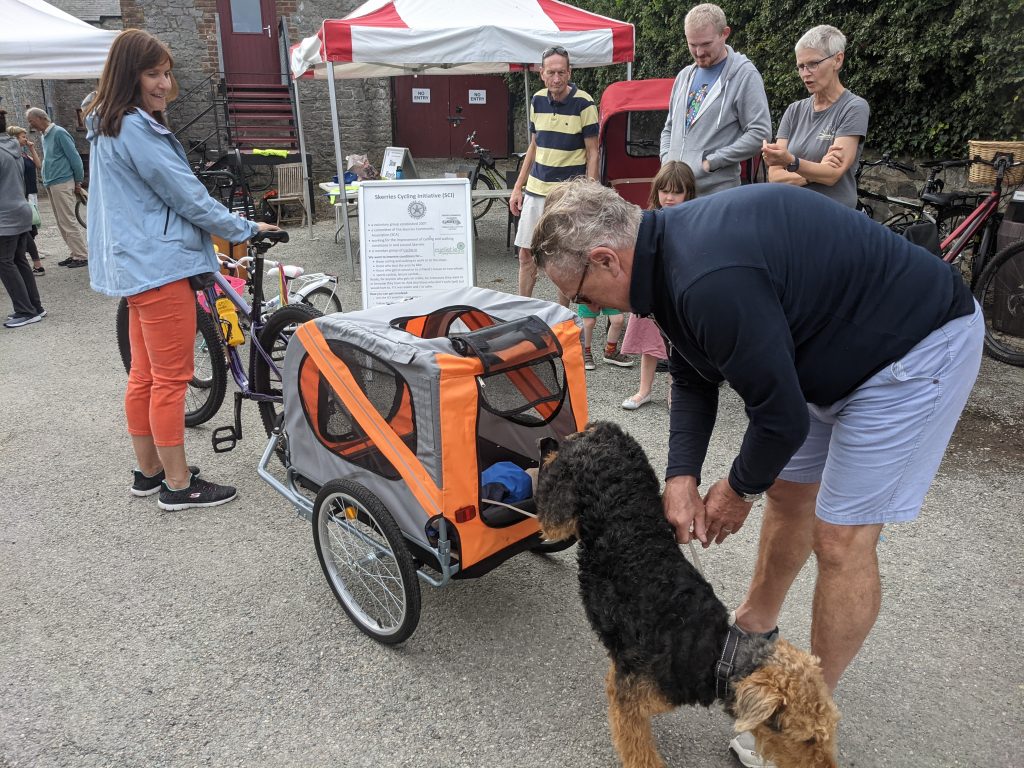 Geoff and Hans battling it out to see who will be last over the line. Geoff brought home the gold!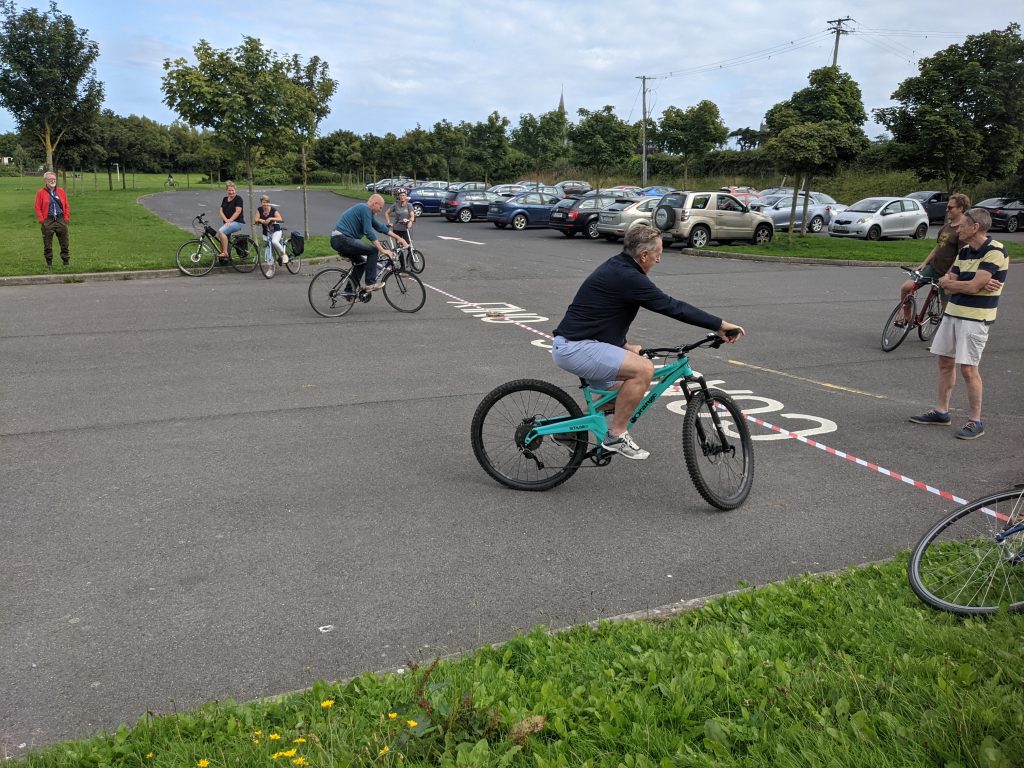 A practical aspect of the afternoon session was the Free Bike Check session with Steve Slusarski -here seen operating in the background – who will be opening the Skerries based Community Bike Workshop in the Autumn.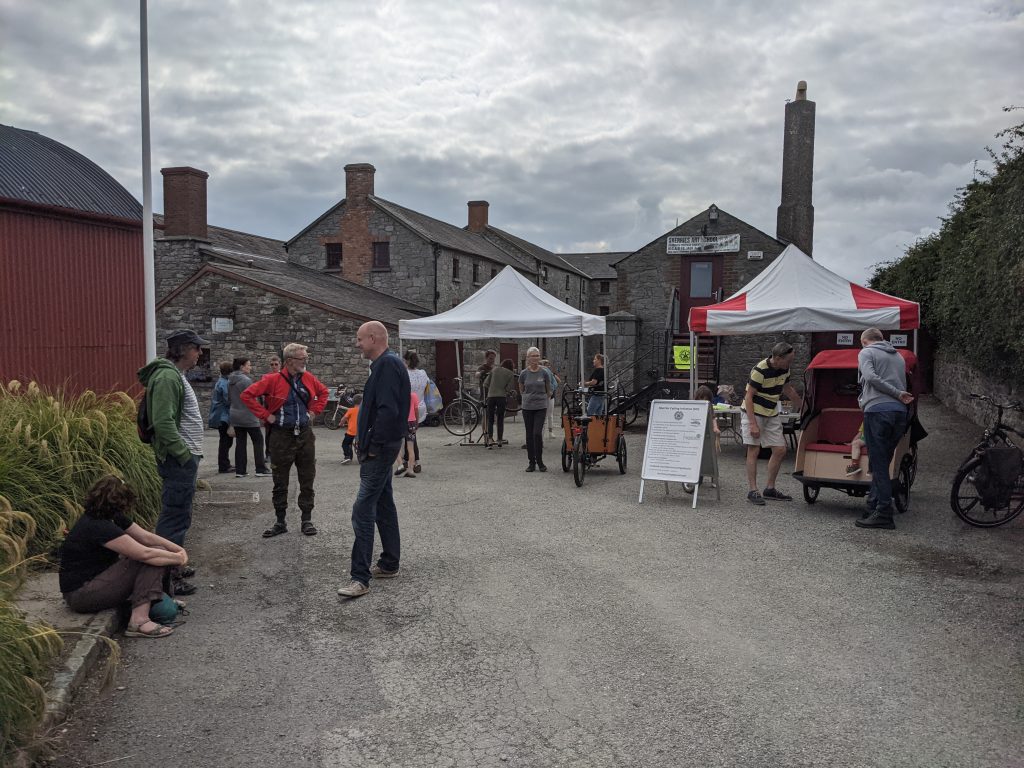 Karen's E-assist cargo bike which replaced the second car in her household.
Pictured are Michael McKenna, Karen Power, David Jackson and Joe O'Brien.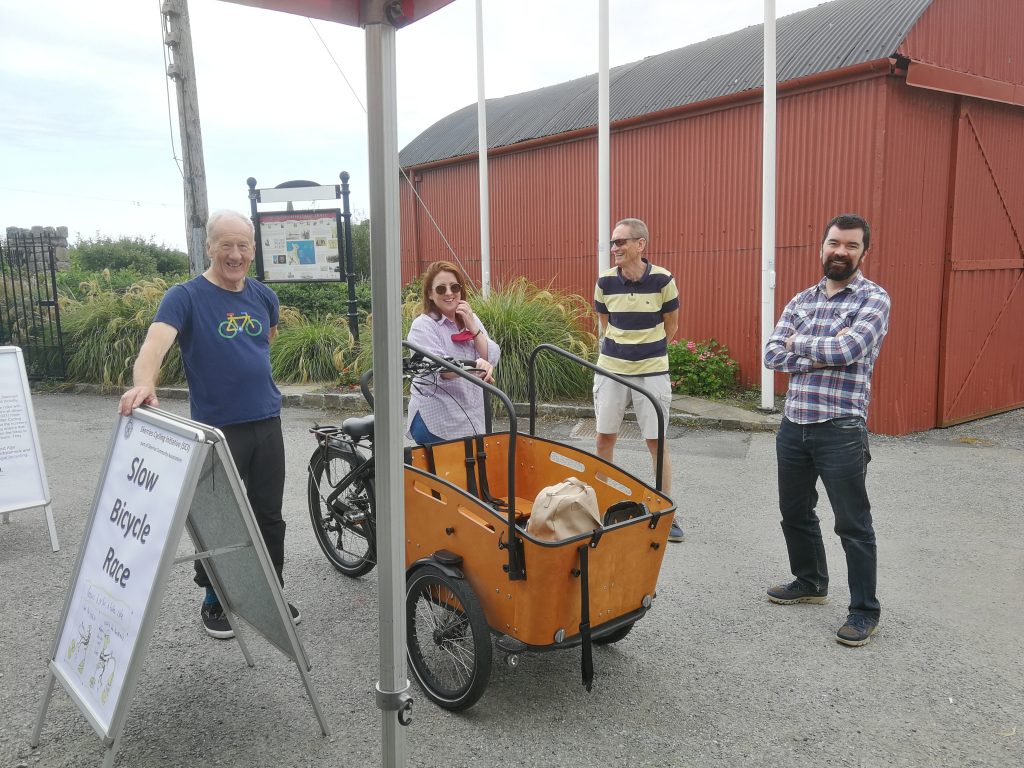 The festival finished on a universal note with Dermot Higgins giving a spellbinding account of his trip around the world by bicycle in 2017/2018, using a very unique flag as his only visual aid. The audience included Dermot's 93 year old mother, seated in the front row. To her must go the last word. When Dermot asked her what she thought of his plan to cycle round the words she summed it up thus: "Crazy!"
Who are we?
Skerries Cycling Initiative (SCI) established in 2007 is a voluntary group working for the improvement of cycling and walking conditions in and around Skerries. SCI is a committee of the Skerries Community Association and is also a member group of Cyclist.ie the national umbrella organisation for cycling advocacy groups in Ireland.
We want to improve conditions for those cycling and walking to work or to the shops; those who tour the area by bike; those who get to school or to a friend's house on two wheels; sports cyclists, leisure cyclists…. really, anyone who gets on a bike, be it because they want to or because they have to. And also those who don't cycle (yet) but would love to, if it was easier and / or safer.

How you can get involved
The current committee:
David Butterly, chairperson and webmaster
Michael McKenna, secretary
Ilse O'Keeffe, treasurer
Steve Slusarski, events officer