Skerries is a good place for people of all ages. This is the result of the work of many – including members of a Skerries initiative, who recently received an Age Friendly award.
The picture of the Skerries / Fingal contingent at the awards ceremony gives you a good idea of the level of cooperation which made this possible. One of the results of their work is the current redevelopment of our Town Park with particular emphasis on making it an environment that is "friendly" to people of all ages.
Age Friendly Skerries is a committee of Skerries Community Association, and more initiatives are underway – keep your eyes open for updates!
The purpose of the first Age Friendly Recognition and Achievement Awards Ceremony, held in Cavan on 20 January 2015 was "to showcase the wonderful age-friendly initiatives from around the country that have contributed to making Ireland a great place to grow old."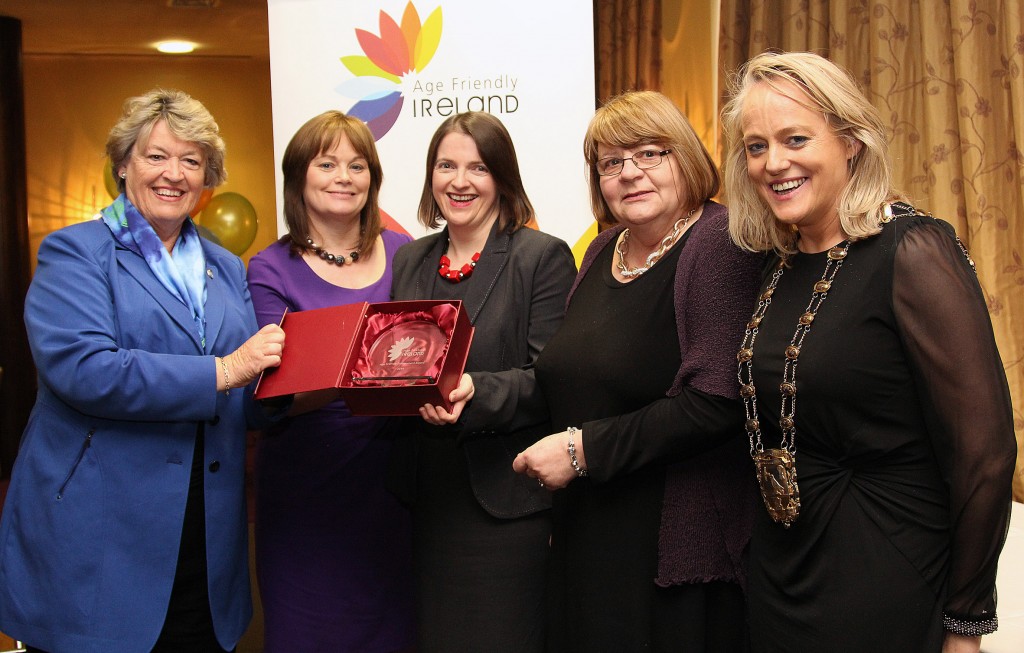 Master of Ceremonies and President Elect of the Gaelic Athletic Association, Aogán O'Fearghaill said:
It is so inspiring to be here today and hear about all the wonderful work going on around the country to make Ireland make our communities more age friendly. The benefits of an age friendly approach will be felt by all members of the community, not just older people. Working towards the goal of age friendliness makes for more cohesive communities.
Other projects chosen for recognition were:
Age Friendly Transport Award – Two Partnership Approaches for Hospital Appointments in Co Meath
Age Friendly Active and Healthy Ageing Award – Intergenerational and Creative Development at MacAuley Place, Naas, Kildare
Age Friendly Business Award – Cavan Age Friendly Business Recognition Scheme
Age Friendly Safety and Security Award – Foxford Safety and Security Project
Age Friendly Communication Award – Kilkenny Age Friendly Communication Plan
Age Friendly Community Innovation Award – Cultaca Supporting Older People, Dundalk