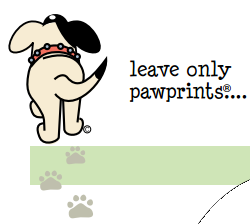 Have you noticed? The days are getting shorter. And for those of us with dogs to walk, we'll increasingly be out and about with Fido in the dark. Joggers, walkers, kids going to school will be out when it's not 100% bright, either… and these are the times when we are all particularly happy about clean, poo-free sidewalks, roads, and verges!
I guess 99.5% of all dog walkers are well-intentioned and always mean to tidy up after their dog. Sometimes, however, they might be caught without a plastic bag to do so…
Enter the Green Dog Walker!
Green Dog Walkers is a regional programme. It is a non-confrontational, friendly way to change attitudes about dog fouling.
Volunteers wear a Green Dog Walkers armband which signifies that they have "taken the pledge" to always:
clean up after their dog
wear the armband or put the Green Dog Walkers collar on their dog when walking
carry extra dog waste bags
be happy to be approached to 'lend' a dog waste bag to those without
be a friendly reminder to other dog walkers to clean up after their dogs
Sounds good, doesn't it?  All you have to do is sign the  Green Dog Walkers Pledge – either online (follow the link) and return by email to enviraware@fingal.ie or post to the Environment Department, Fingal County Council, County Hall, Swords, Co. Dublin. A Green Dog Walker armband and a bone dog bag dispenser will then be posted to you.
Or even better: Come to the South Strand, Skerries, between 10 a.m. and 12 noon this coming Saturday (13 Sep), meet a Fingal dog warden, "take the pledge," and meet other doggies and their walkers! (Or should that be: walkers and their doggies?)
Do encourage friends with dogs or dog lovers to come down and join in the fun!
You can read more with our  Green Dog Walker Leaflet or Green Dog Walker Leaflet Irish Version .
Skerries Community Association is happy to be cooperating with Fingal County Council in this initiative.