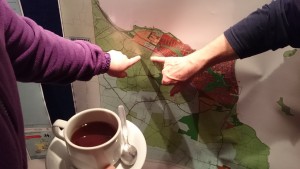 The next County Development Plan will cover the years 2017 to 2023. That's a good bit into the future, but Fingal County Council have started work on it. You can read all about the process on the FCC website.
In the first round of consultations, Skerries Community Association was part of a very lively consultative meeting hosted by Fingal County Council in Balbriggan in April.
Issues raised there, and at our Board of Directors meetings, were summarised by our vice chairperson, Geoff McEvoy, and sent in the format of a submission to Fingal County Council in May.
A link to a PDF with the full submission is below; here are the main points:
Cultural Heritage
need for a permanent, purpose built performance space in Skerries
renovation and renewal of Skerries Library
Infrastructure and Movement
active travel (walking and cycling) must continue to be a priority focus
provision of cycle lanes and accessible footpaths
consideration of local public transport options to further  encourage mobility and prevent traffic congestion in the town centre.
overall, strategic approach to traffic management in Skerries
completion of promised and planned cycle path between Skerries and Balbriggan
Economic Development
Tourism is of increasing importance for the economy of the town – need for more beds to accommodate overnight visitors to festivals etc.
Infrastructural support to facilitate a joined up approach to the various water sports and activities that make use of our coastline.
Explore options for the Martello Tower, a potential tourism resource that is not being utilised.
Natural Heritage
Continued access to clean water and beaches is crucial for Skerries. The recent granting of the waste facility licence at Milverton Quarry has raised concerns in this regard.
Effective, sustainable water treatment – address inability of the water treatment plant in Kelly's Bay to cope with increased water (heavy rains) and water quality in Rush (due to lack of proper water treatment there)
Long-term plans needed to address flooding at the Mill Stream.
Settlement Strategy, Placemaking and Communities
Facilitate the swift return to use of vacant properties.
Support independent living for older people
Provide youth facilities
Provide open spaces
High-quality broadband for all of Skerries and environs.
Free public WiFi throughout the town centre is desirable
Maintain the green belt between Skerries and the neighbouring towns of Balbriggan, Lusk and Loughshinny.
While additional development for housing is probably necessary, all planning and development must be sensitive, sustainable and community focused in order to avoid the mistakes of the past.
Skerries Community Association will continue to engage with Fingal County Council so that the next Development Plan will provide a framework for the points we raised in this submission.
Click on this link to see the full submission:
SCA Development Plan Submission May 2015