Sitting down on Strand Street
Thanks to the efforts of some dedicated Skerries residents, who collected over 1000 signatures in favour of seating on Strand Street, Fingal County Council has agreed to pilot two benches on Strand Street. They will be located in the area to the south of the bus stop between the bus stop and Gerrys Supermarket. The pictures show f the proposed style of bench.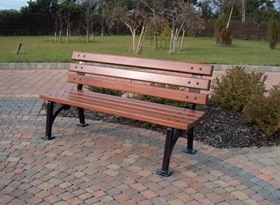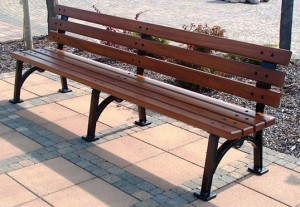 Skerries bathing water quality figures
The Council recently released the attached figures on bathing water quality in Skerries last summer (2013). They were very good indeed. The reasons for this were improvements in the water treatment infrastructure and the very low rainfall levels.
Unfortunately, several years of good readings are needed before we will qualify for a Blue Flag again so although the Council has applied for one, it is very unlikely that Skerries will be awarded it this year. However, we are going to run our Skerries Water Quality project again this summer taking samples of seawater during the bathing season which the Council will have tested immediately, providing more timely information which we will then publicise. If you would like to volunteer as a water tester, please contact us on info@skerriesca.com
Water quality figures for 2012 and 2013:
 Cycling restrictions on South Strand pathway
The South Strand pathway is not currently wide enough to safely accommodate cyclists and pedestrians. In order to address this problem, the Council has decided to apply for funding to widen the pathway to 3.5 metres, the required width for safe shared use. In the meantime cycling will be restricted to small children who are learning to cycle. Signage to this effect will appear soon. Click on this link to see a note prepared by FCC for the Skerries Community Liaison Committee recently:
 Skerries skatepark
Thanks to the lobbying efforts of the Skerries skate park committee, the Council is enthusiastic about building a skatepark in the town. A probable location is next to the playground on Red Island. The next challenge will be to source the required funding which is in the region of 165k euro.
 Springboards (Springers) repairs
The Council has committed to repairing the damage caused by this winter's storms in time for the summer bathing season.